Wild & The Moon | Vegan concept
Wild & The Moon | Vegan Concept
Wild & The Moon is a movement created by a tribe of life, nature and food lovers, chefs, nutritionists and naturopaths who seek to share their lifestyle, and believe above all that real food is good for you, good for the planet and delicious.
The ambition of our Wild Tribe is to bring to our urban communities :
Local, seasonal and responsibly traded ingredients whenever possible, promoting biodiversity.
To revive the techniques of traditional food preparation know-how in order to protect the vitality and increase the nutritional power of food, and thus offer the benefits of raw food and the unaltered taste of bioactive elements.
The benefits of Mother Nature, entirely from the plant kingdom, without hormones and without cruelty.
To access the healing power of Nature and offer it to city dwellers, to nourish souls and revive smiles through the powerful alchemy of plants.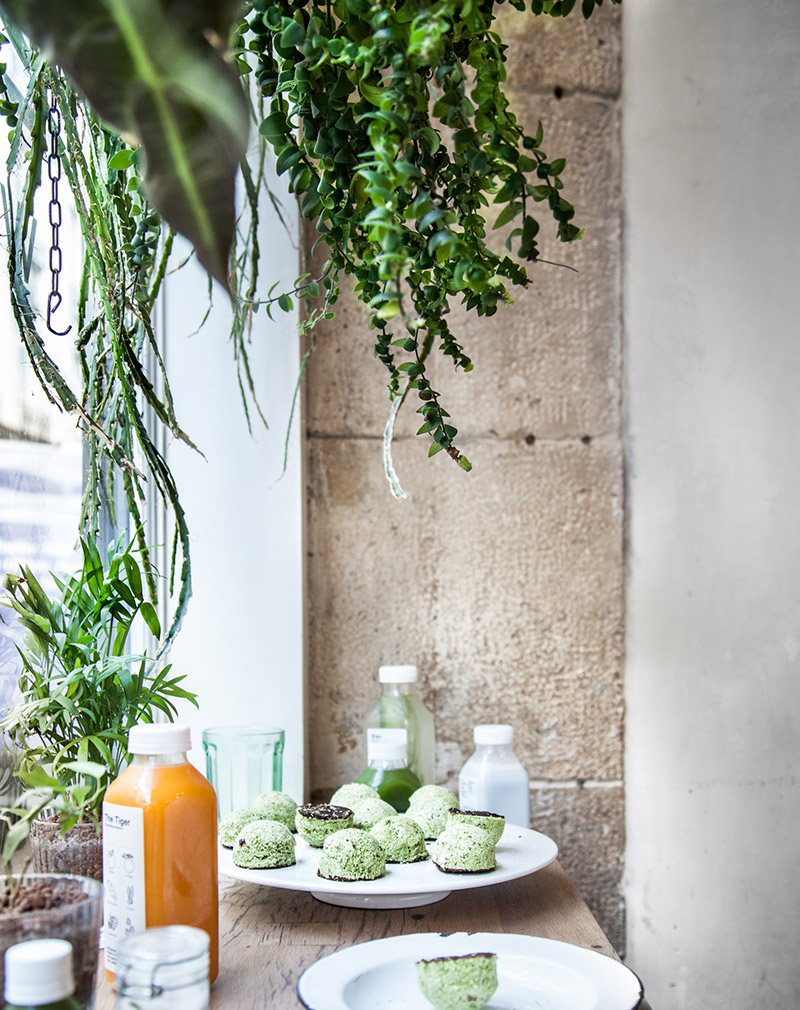 We offer a selection of cold-pressed juices, plant-based drinks, smoothies, salads, soups, desserts, super bowls and snacks to provide a healthy alternative for city dwellers.
Wild & The Moon products are homemade, made with fruits, vegetables, herbs, roots and wild plants, nuts, seeds, spices and superfoods, all from responsible agriculture.
We do not use refined sugars, additives, preservatives, GMOs, gluten or dairy products.
Our recipes are inspired by the seasons, the ingredients we love, the trips we have taken to other countries, the meals we have shared with family and friends.
We have drawn flavors and ingredients from the depths of our childhood memories, along the random paths of life, and sprinkled them with herbalism and naturopathic secrets to create new nutritional alchemies rich in vital energy.
By adopting ancestral methods of preparation, we seek to preserve the very nature of the food, keeping it as close as possible to its original nutritional state to retain all its natural strength.
These techniques include: soaking nuts, seeds and grains to eliminate toxic anti-nutrients; pre-sprouting, to revitalize them by increasing their enzymatic potential and facilitate their assimilation.
Fermentation, to increase the nutrient content (vitamins, minerals and trace elements) and facilitate digestion. Dehydration, to preserve enzymes, vitamins and antioxidants. Cold pressing, to preserve all the vital nutrients and enzymes. You will feel the benefits, including a sense of well-being and lightness, clearer and more radiant skin, and a more alert mind.
And always...
100% PLANT-BASED ・ NO PLASTIC ・ HOMEMADE ・ GLUTEN-FREE ・ NO ADDITIVES ・ COLD-PRESSED ・ NO HPP
Cold pressing
The hydraulic pressure cold extractor reproduces the chewing process, slowly crushing the fruits and vegetables, thus avoiding heating and oxidation. Standard extraction methods, such as centrifugation, strongly degrade the ingredients by transforming them at several thousand revolutions per minute, which destroys the nutrients, vitamins and fragile enzymes. Cold pressing, on the other hand, preserves the food and keeps its nutritional qualities intact.
Home made
All our recipes are prepared in our own kitchen. From almond milk, which is used to prepare smoothies, hot drinks, vegetable milks or desserts, to vegetable crackers, we always start with the food in its pure form, thus guaranteeing ultra-fresh dishes without additives or preservatives.
No additives
We do not use any additives, chemicals, coloring agents or preservatives. Our products are entirely made from sustainable agriculture products, 100% natural.
Without HPP preservation
This process of "stabilization by high pressure processing" (or High Pressure Processing) consists of sterilizing the juice by immersing it in an ice water bath at very high pressure in order to destroy all bacteria (but also vitamins and enzymes) to increase the shelf life, beyond 3 days. A juice that is more than 3 days old is no longer considered fresh. At Wild, our juices are cold pressed, without preservatives and unpasteurized. Thus, the fragile vitamins and enzymes remain intact. The best before date is three days. It is the same for our vegetable milks.
Our recipes have been designed by expert raw-vegan chefs, nutritionists and taste lovers, using only the best seasonal produce, grown and harvested by local farmers.
We are committed to preserving a healthy and sustainable agriculture, as well as the biodiversity of our planet. We also aim to produce zero waste and recycle everything we can.
The fiber-rich pulp of our juices and nut milks, for example, is revitalized and transformed into light, healthy crackers that are extremely rich in pre-biotics.
NO PLASTIC! We use 100% biodegradable packaging right down to the label and its glue. Our plant-based plastic is made from corn and sugar cane starch in an energy-efficient, low environmental impact process. #goodfortheplanet
We are first and foremost lovers of taste, and compromise is out of the question for us! Not only is the powerful plant-based alchemy in all our recipes the best vital energy fuel for the body, but it will also make your taste buds sparkle!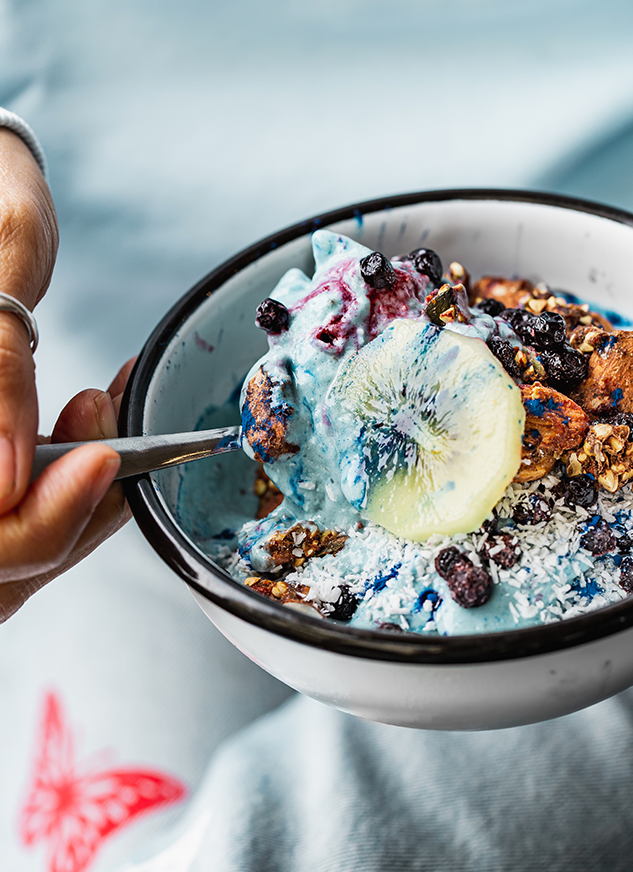 TONS OF FOOD are thrown away or lost around the world
This figure represents one third of the total food production. This is an intolerable fact.
As a team, lovers of healthy and tasty food, members of a Wild Tribe, we believe that it is our duty to make the world a fairer, healthier and more equitable place. That our mission is first and foremost to educate the community, and we firmly believe that we have the power to change the world, meal by meal, because the only thing better than food that feels good is food that does good.
We prefer to have empty fridges at the end of the day rather than throwing away 20 salads, and work with Too Good To Go who collects our unsold goods every day to resell them at a lower price, in surprise baskets, after closing time.
The Wild Team
The Wild Team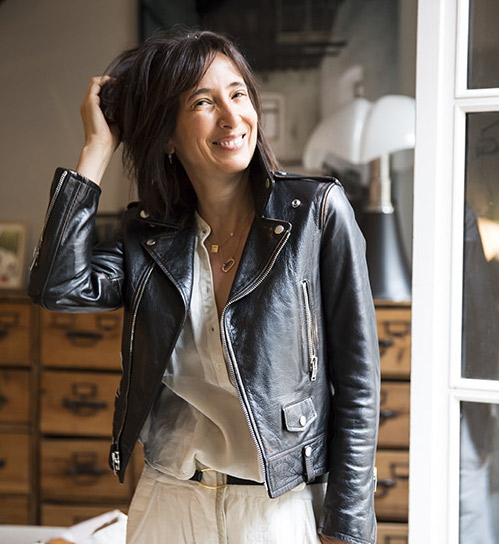 Emmanuelle is a true Parisian. She has a built-in radar for all things fashion, design and especially good food. Over the past few years, this cosmopolitan Frenchwoman has built a reputation as a trend hunter from Paris to New York, via Dubai. Curator, director and founder of Dubai's first concept store, Comptoir 102 has become the darling of all travel guides and fashion editors, and one of the city's worst kept secrets for all shopping and healthy food afficionados.
Having won the Harper's Bazaar Design Award for the best interior design store in the region, and the What's On Award for the best healthy restaurant in Dubai, Comptoir 102 has become the ultimate reference for healthy and delicious food.
With all the hype, Emmanuelle took the measure of people's immense expectation for healthier food and decided to take the takeaway market a step further by launching Wild & The Moon.
She is the creative brain behind the brand. She's also a fun girl and really rocks!
Hervé is a financial Jedi and is also a good Thai boxer.
A former partner in the investment bank Rotschild, he has developed his expertise in France, the United Kingdom, the United States and the Emirates. A cosmopolitan career that has allowed him to build a solid experience in the hospitality sector, especially in the hotel and restaurant business.
His interest in living foods was born and grew along with his addiction to sports, while living in New York. Passionate about this new way of eating, Hervé defends the idea that the adoption of a healthy and natural food and lifestyle has the power to change our society in a profound way.