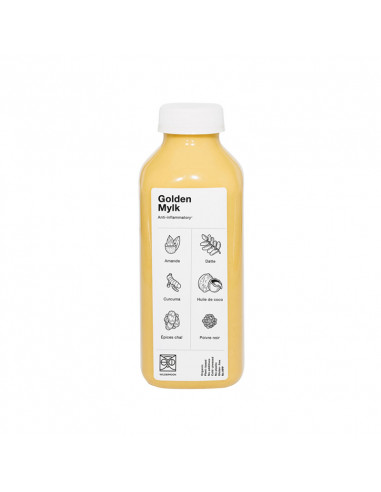  
Golden Mylk
Our Golden Mylk combines turmeric with black pepper and our delicious almond mylk.
+ Turmeric is a very powerful anti-inflammatory. Its effect doubles when associate with black pepper.
Inspired by traditional Ayurvedic medicine, our Golden Mylk combines turmeric - a potent anti-inflammatory - with black pepper to increase its bio-availability in a smooth gold rejuvenating elixir.
Nutmylk made from filtered water (72,6%) and almonds* (16,1%) - Ingredients : almonds*, dates paste*, turmeric*, chaï spices*, vanilla powder*, sea salt, , coconut oil*, black pepper.*
* Ingredients from organic farming.