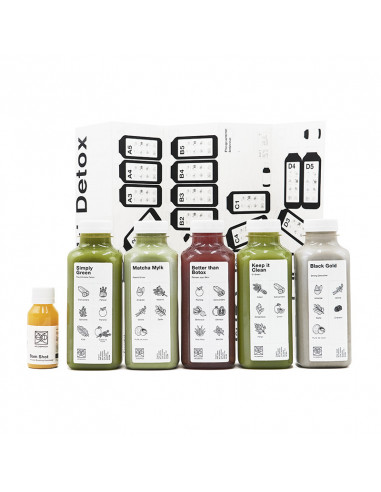  
Essential
Beginners
Each day in your detox program:
Menu A or B
1x vitality shot 60ml
3x cold-pressed juices 500ml
2x nutmylks 500ml
Our ESSENTIAL program is composed with menus A & B which alternate every day depending on the length of your cure.
Wake up – Start the day with your Bam Shot, full of vitality and with powerful anti-inflammatory vertues. This elixir might be a little bit teeth grinding but will bring all the energy you need! 
Ingredients: Turmeric, ginger, lemon, black pepper, coconut oil. 
Before bed (optional) – A tablespoon of Elixir Viridem in a hot water mug will detoxify your liver and purify the blood while you're asleep. Contains ultra-detoxifying vertues, body's mineralisation and essentials minerals.
Ingredients: Graviola, Moringa, Chanca Piedra, Spirulina, Chlorella, dandelion leaves, Rama Tulsi, lemongrass and lemon barks from vegetable glycerin and water.
Find out the composition of our menus below:
Discover our other products
Delivery
In order to protect the fragile enzymes your body needs and uses, our juices are cold-pressed the day of your delivery, especially for you. Our juices are not pasteurized, and free of preservatives.
Our juices have to be drunk within three days; as a result, we deliver our detox programs 2 day by 2 day. Note that you will be delivered twice for a three-day detox, three times for a 5-day detox, and four times for a 7-day detox.
OUR TIPS FOR A SUCCESSFUL DETOX
Before
At least three days before starting the cleanse program, your body needs a little time to transition.
OUT
Gluten (mainly found in wheat-based products, rye)
Meat and dairy products that take longer time to digest or get rid of
Refined sugar, addictive and exhausting for your bod
Any fried and refined products
Alcohol, caffeine and black tea, which are stimulants
IN
Raw and cooked vegetables of all colors
Fruits, especially berries
Plant protein in the form of veggies (dry beans, lentils, chickpeas) and whole grains (quinoa, buckwheat, rice …)
Nuts and almonds
Virgin oils
Feeling amazing already!
DURING
Remember to drinks lots of water. The body needs a pick me up and lots of water to drain and remove all the toxins. Drink water, pure or infused with lemon, mint or herbal teas.
Look and discover for the Buddha in you! Remember to take time for yourself, mediate, listen to what you rbody is asking for during this special time.
If you feel the need to snack and "bite", go for a light and raw snack like an apple, carrot sticks or nuts.
AFTER


You're all set up and ready to go, your body is in relax chill mode. Take great care of it and do not go back to old bad eating habits. Your body will be more reactive to what you eat in the next couple of days. Take it slow!
Slowly bring back cooked green veggies and fruits into your diet. You can also add sprouted seeds, nuts and dried fruits.
Make sure veggie-based meals become an essential part of your diet et come visit us in one of our juice bars!