Our 100% vegan Christmas menu
Every year it's the same thing, December is coming, Christmas is approaching bringing its share of excitement but also questions... What presents? What decorations? The tree... where should it come from so as not to damage the planet? And above all, what festive meal will I serve to my guests?
Prepare a healthy feast and convince Uncle Paul that you can enjoy a 100% vegan dinner, that a plant-based menu is far from being boring and it is, moreover, succulent and hearty!
No more worries: we have thought of you.
Already it is necessary to seduce the guests... For that nothing more original than a handful of cashew nuts with white truffles. Terribly addictive, our Truffle Cashew will set the tone of your New Year's Eve: healthy, vegan, gourmet and good!
You'll think that things will get tougher once you're at the table, but no way! You'll just have to draw a delicious tray of hummus and wild nutcheese (straight out of your favorite Wild & The Moon) in a mezze style, crunchy vegetables to dip in and buckwheat pitas... #BLUFFANT!
For a good Pink Houmous:
160 g chickpeas - 1 tbsp olive oil - 1 tbsp lemon juice - 80 g tahini - 1 tbsp beet juice (for color) - 1 pinch salt. 1 handful of pomegranate seeds for decoration.
Soak the chickpeas for 12 hours in a large volume of water. At the end of the 12 hours, rinse and drain them. Cook the chickpeas in a large volume of boiling salted water until they are tender. Once the chickpeas are melting, drain them, keeping some of the cooking water.
In a blender, pour the chickpeas with a little cooking water, olive oil, lemon juice and tahini. Add salt and blend until smooth.
Adjust the seasoning if necessary.
Add the beet juice and mix well.
Arrange the hummus in a bowl or in small individual jars. Sprinkle with pomegranate seeds.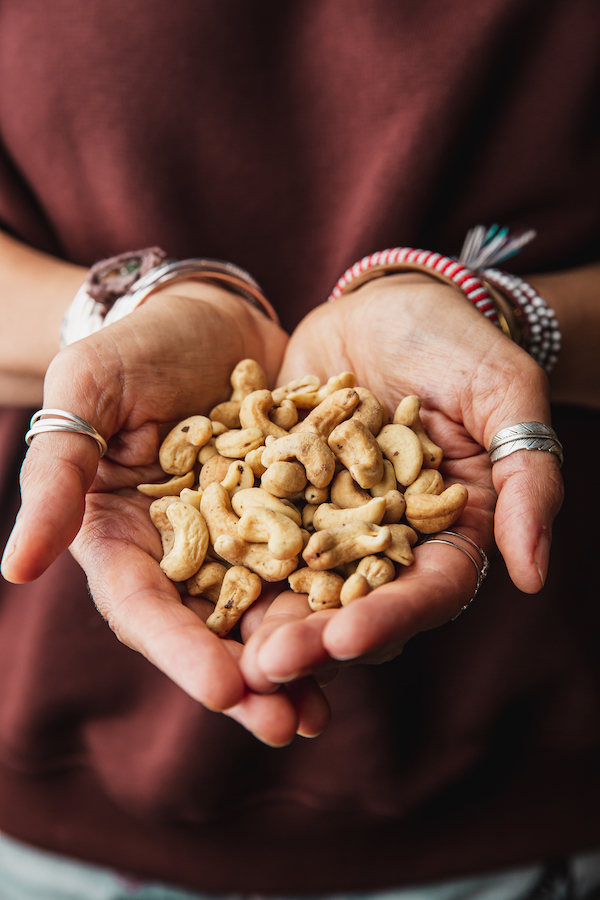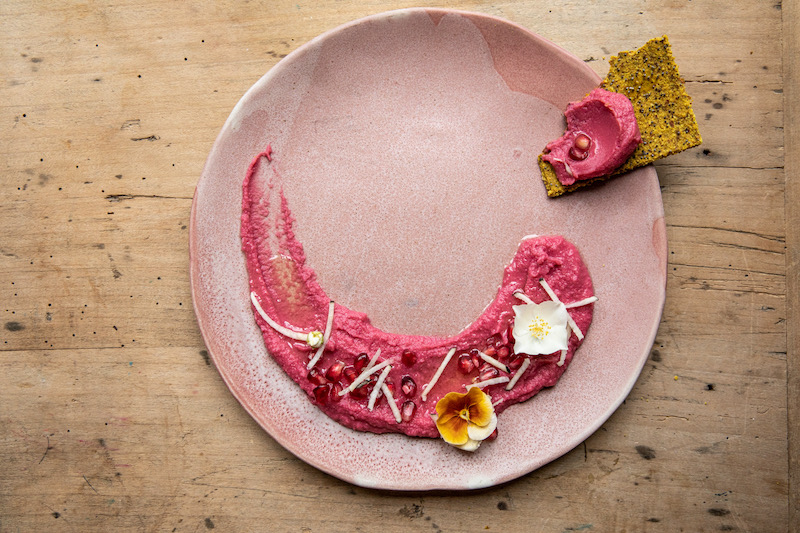 The next step, and not the least, is the main course! It's time to shine with a recipe from our friends at Planted. 100% vegan, 100% delicious, 100% healthy
Dazzle your guests with an orange chicken and glazed carrots, totally vegan
For the mashed potatoes: 1 kg of potatoes - 200 ml of vegetable milk (oat milk is perfect!) - 200 ml of vegetable cream (again, oat cream and that's it) - 3 tablespoons of almond puree - 1 tablespoon of truffle oil - A little nutmeg - Salt and pepper
For the glazed carrots: 500 g of carrots - 20 g of vegan butter - 10 g of sugar - 125 ml of vegetable stock - 1 pinch of salt
For the orange chicken: 400 g of sliced plantain - 2 onions (quartered) - 3 cloves of garlic (halved) - 2 oranges (sliced) - 4 tablespoons of olive oil - 400 ml of orange juice - fresh rosemary - 1 large piece of ginger (sliced) - 1 teaspoon of curry powder - 1 teaspoon of paprika powder - 1 teaspoon of cinnamon - A little bit of sugar - Salt and pepper
For the orange chicken, sauté the sliced planted chicken with the onions, garlic and ginger over high heat. Place the fresh rosemary and orange slices on top and deglaze with the orange juice. Add the spices and simmer for at least an hour. (The sauce is a bit more liquid. If you want it to be firmer, you can either reduce it more or thicken it with cornstarch).
For the mashed potatoes, peel the potatoes and cut them into thin slices. Cook them in water for about 30 minutes, then put them in a potato masher. Heat the milk with the vegetable cream. Mix in the cold butter, truffle oil, hot cream and hot milk with a wooden spoon until you have a smooth purée and season with the spices.
For the glazed carrots, clean and peel the carrots, leaving a little bit of green. Heat the butter with the sugar and salt in a saucepan. Sweat the carrots, turning them regularly. Pour in the broth. Cook over low heat in an open pan until the liquid has evaporated and the vegetables are shiny.
Arrange the mashed potatoes on a plate with the glazed carrots, chicken and sauce and enjoy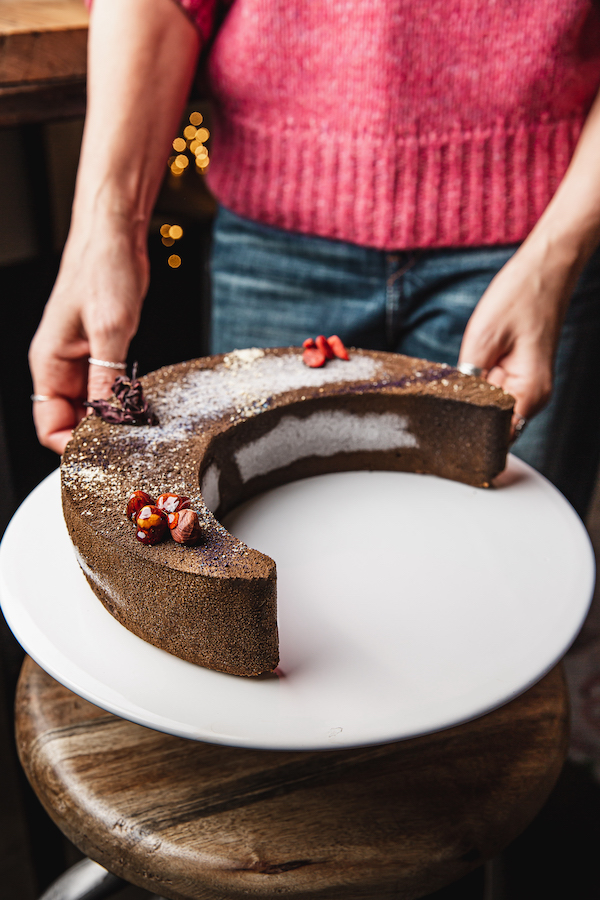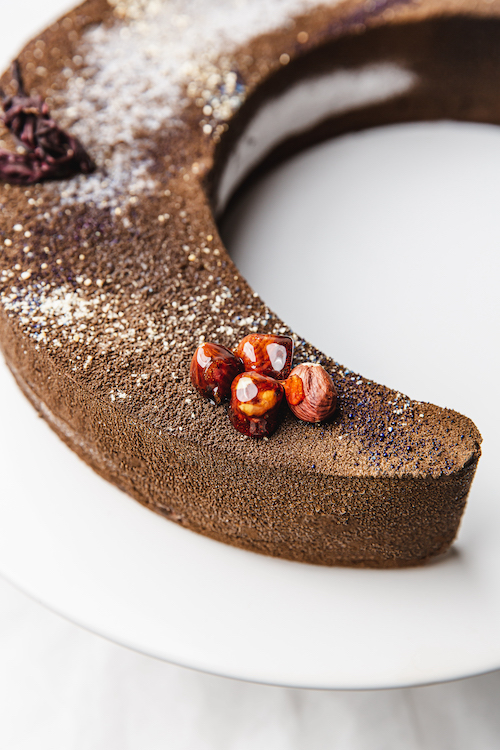 Last but not least: for dessert, serve our Mooncake - THE vegan log that will make your guests fall in love. On a crunchy pastry made with roasted hazelnuts, candied apple with caramel... The whole thing is coated with a chocolate Andoa topping, organic and fair trade, 70% - and coconut milk
Log for 10 to 12 people. Available for pre-order Click & Collect until December 19th and to be picked up on December 23rd or 24th in the restaurant of your choice.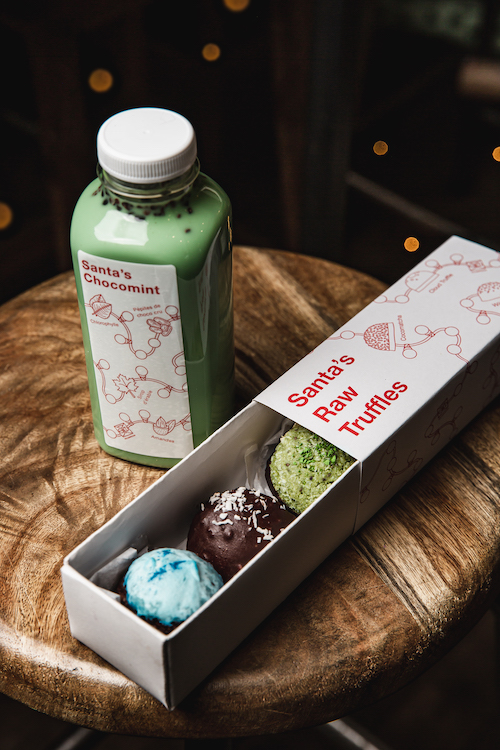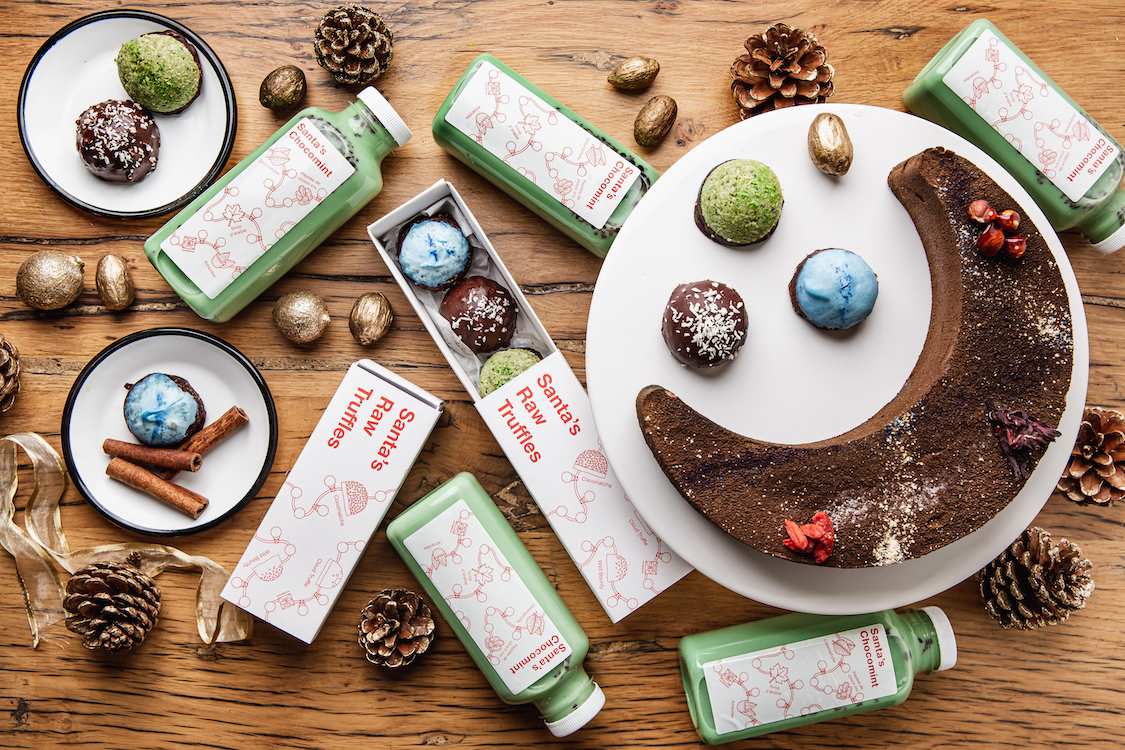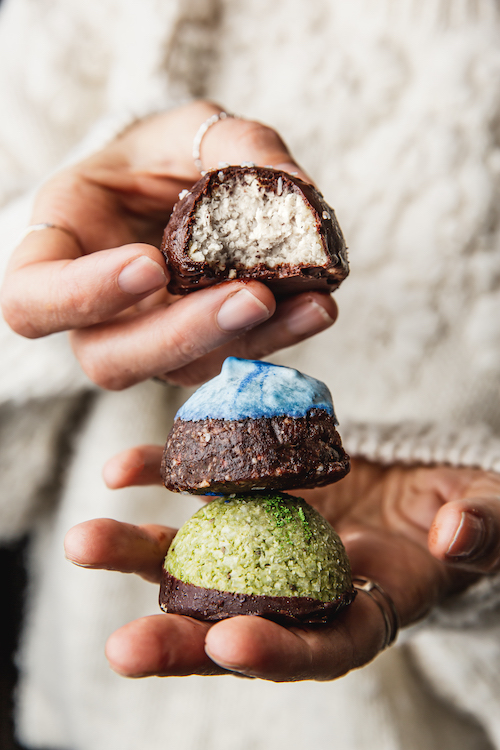 We accompany this delicious log with a good Santa's Chocomint before putting the children to bed - without forgetting to leave one for Santa Claus with some Santa's Raw Truffles so that he can fill up on energy during his tour of the chimneys!