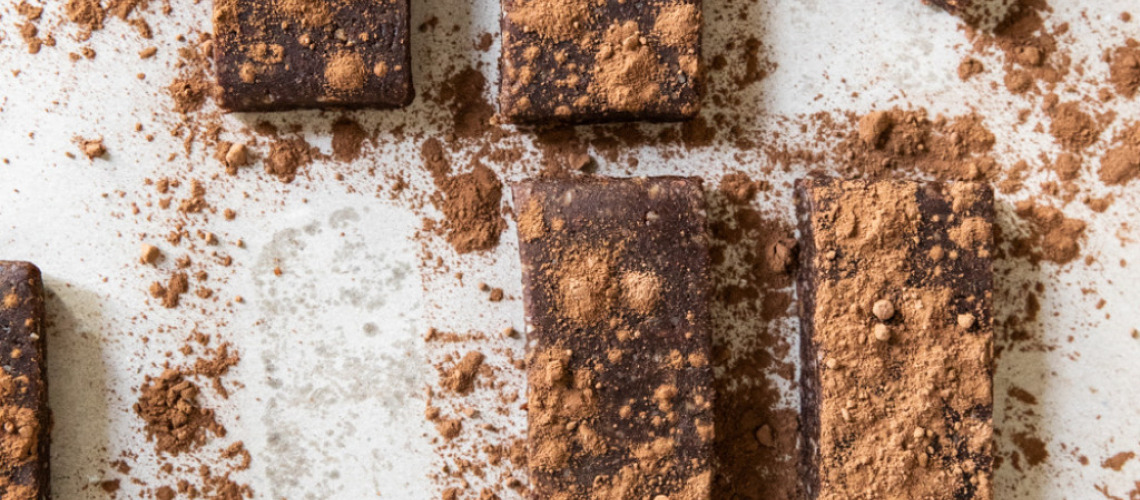 The Love Bar: a bar with Maca powder.
This superfood is a tuberous plant, a recognized aphrodisiac, tonic bringing strength and energy. Maca strengthens the immune system in general
Ingredients for 10 bars :
250 g of almonds
200 g of date paste
1 tsp of coconut oil
1 pinch of vanilla powder 10 g of cocoa nibs
15 g cocoa powder
1 tsp. maca powder
1 dab of cocoa butter 1 tbsp of guanara
1 pinch of salt
The Matcha Bar: guaranteed concentration!
Matcha powder is obtained by grinding green tea leaves slowly between two millstones. It contains a huge amount of natural antioxidants that help fight against free radicals, cholesterol or skin aging. Its virtues are both stimulating and calming. The match was consumed, in China, to stay awake and concentrated (for long hours) during Buddhist meditations
Ingredients for 10 bars
150 g of cashew nuts
120 g of almonds
280 g date paste
1 tsp. vanilla powder 1 tbsp. matcha
50 g shredded coconut 1 pinch of salt
Coarsely crush the almonds, then mix them with the rest of the ingredients.
Spread the dough on a baking sheet covered with parchment paper.
Chill for at least 2 hours.
Once the mixture has hardened, cut it into individual portions.
Keep in a cool place until ready to eat.