5 opportunities to introduce superfoods into your day
Superfoods: just a fad or real health benefits?
At Wild, we are convinced: these ancient ingredients are so effective that we can't do without them!
Superfoods are 100% natural foods in the form of berries, roots, mushrooms, herbs or seaweed... with multiple and extraordinary properties. They contain high quantities of nutrients (vitamins, minerals, fibers, trace elements...) and above all,antioxidants that protect our body against free radicals.
However, there are many superfoods with specific benefits. And it is not always easy to find out how and when to consume them.
So we wanted to complete our article that presented our range of superfoods by sharing with you the different times to introduce superfoods in his day as part of a healthy and balanced diet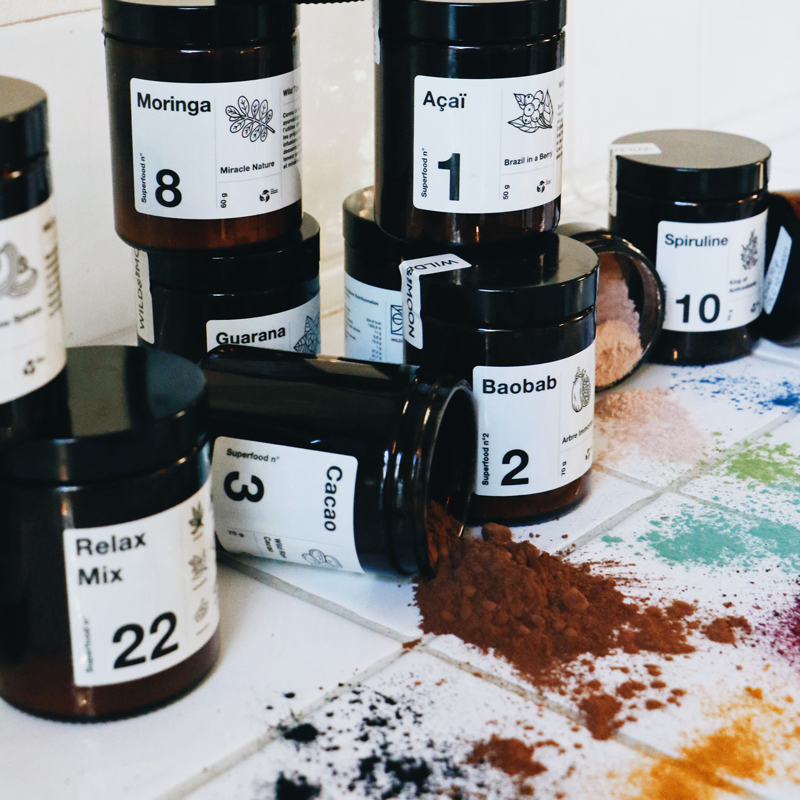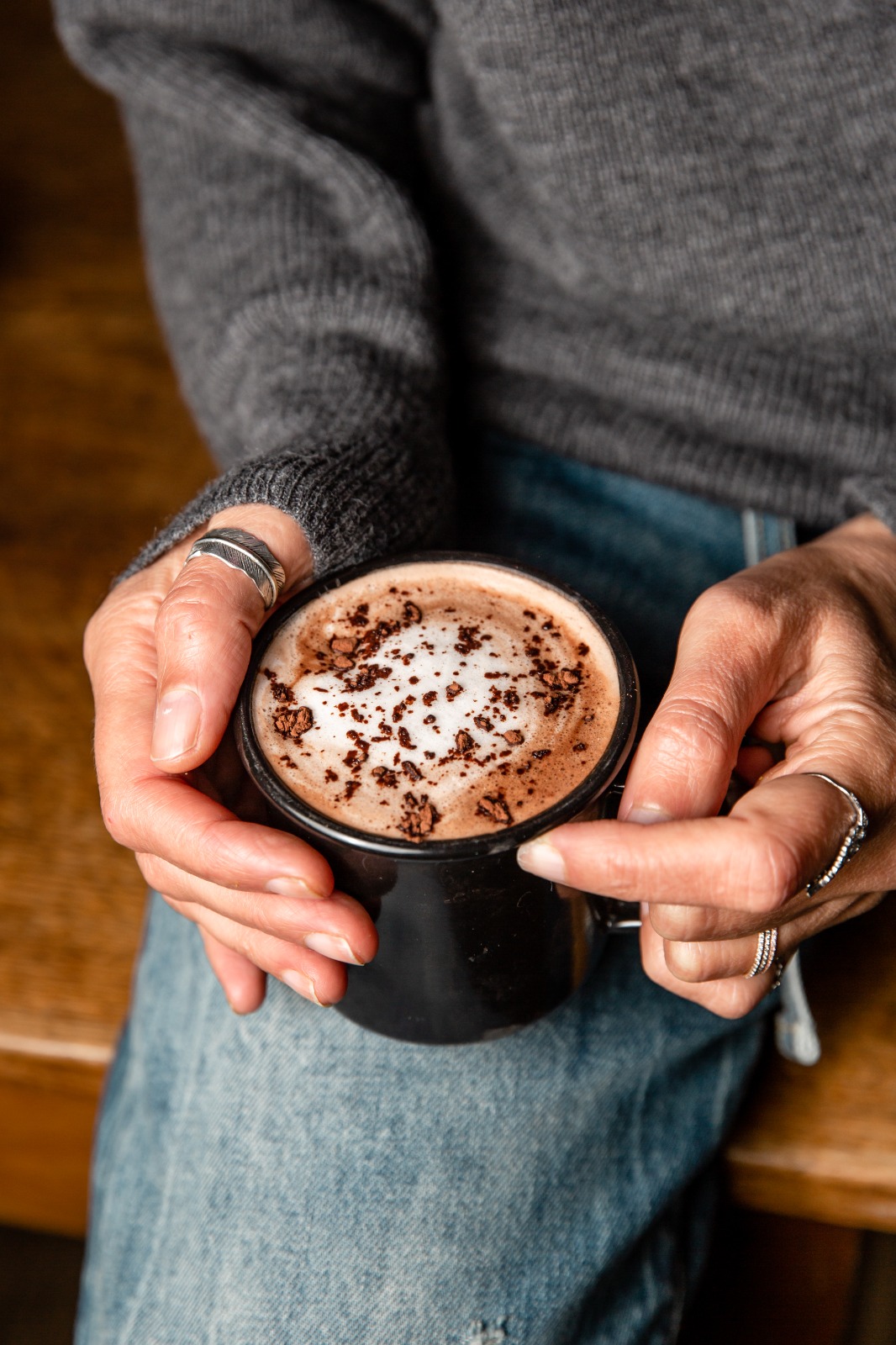 To start the day well, superfoods are a great complement to breakfast.
The "star" superfoods of the morning to gain vitality and energy:acai, chaga, cocoa, maca and reishi.
The advantage of breakfast is that there are many possibilities depending on your appetite or taste:
For those who need to eat in a consistent way, acai powder can be consumed in your morning preparations (vegetable yogurt, porridge, smoothie) Not to mention the topping of granola to provide crunch and fresh fruit to provide vitamins, color and even more flavor!
For those who have little appetite and prefer to settle for a drink, cocoa, chaga and maca go perfectly with your usual hot drinks.
Chocolate Chaga Recipe:
- 1 tbsp. cocoa powder
- 1 tsp. chaga powder
- 1 tbsp. maple syrup
- 250 ml of plant milk
Topping: cocoa powder
Superfoods for lunch or dinner as seasoning
How about adding some superfoods to your salads or dishes?
The one that can become a must in your kitchen cupboards is spirulina. This thousand-year-old algae is rich in protein and a source of iron, and has antioxidant benefits.
In powder form, it can easily be used to cook sauces or prepare seasonings.
An example of a Wild recipe with spirulina: our spirulina konjac starter.
Here is the recipe for the spirulina sauce
- 1 large handful of soaked cashews
- 1 tbsp of cider vinegar
- 1 tbsp. mustard
- 3 tbsp. olive oil
- 1 tsp. spirulina
- 30 ml water
- Salt
Blend all ingredients until smooth and creamy. To mix with the just rinsed konjac.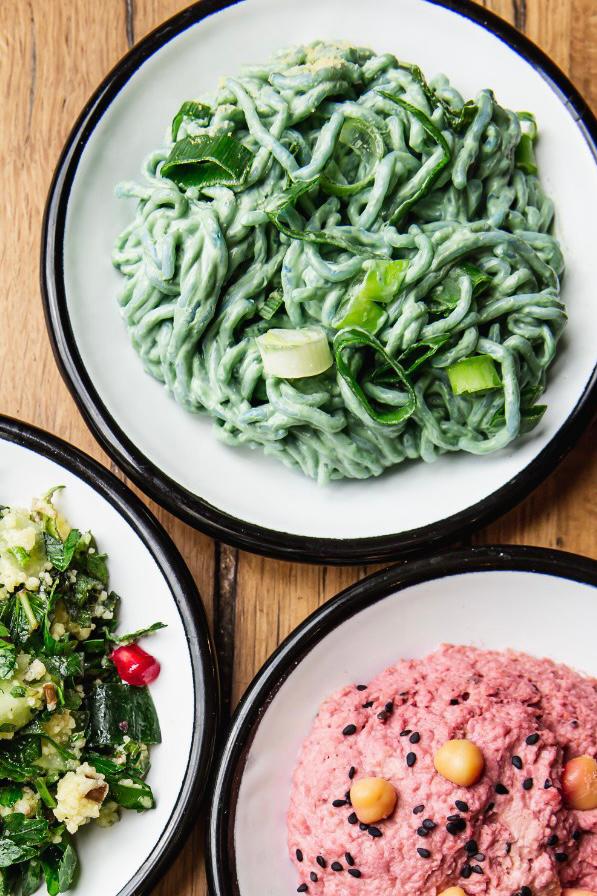 Superfood energy snacks in the morning or afternoon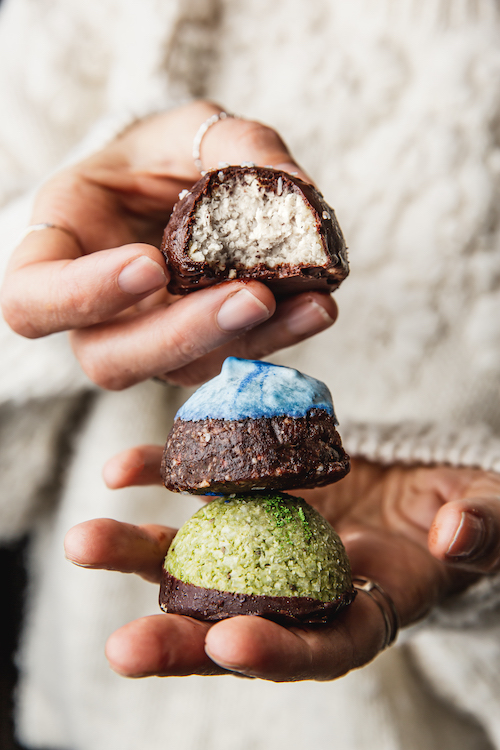 Have you always heard that eating between meals isn't healthy?
What if we told you that it's actually possible to have snack breaks that are both healthy AND delicious thanks to superfoods?
No more junk food, hello "funk food by Wild & The Moon": bars or bites, sweet or savory...you can indulge yourself AND do good at the same time with a healthy snack based on superfood.
For those who love salty snacks, you can easily add spirulina to your popcorn by preparing it with coconut oil and Himalayan salt. Or for those in a hurry, opt for our spirulina detox popcorn ready to eat! A snack that thanks to spirulina boosts the immune system and helps eliminate toxins.
For sweet tooths, the good idea are the energy balls or energy bars: recipes for tasty and healthy bites or bars prepared with superfoods to provide additional benefits according to the properties of the chosen superfood.
One of our favorite recipes at Wild: the Cocomatcha energy ball made with matcha, known for its anti-fatigue and anti-oxidant properties.
COCOMATCHA
70g of grated coconut
10ml coconut oil
20ml maple syrup
30 ml coconut milk
1 tbsp of chia seeds
1 tsp. matcha
30 g of dark vegan chocolate
1. In a bowl, mix all ingredients except chocolate. Using an ice cream scoop, scoop out balls of the mixture.
2. Place them on a baking sheet covered with parchment paper and chill for at least 1 hour. Once the balls are cold, melt the chocolate in a bain-marie and dip the base of the cocomatcha in it to make a thin layer of chocolate and chill until the chocolate sets.
Superfood in your hot or cold drinks all day long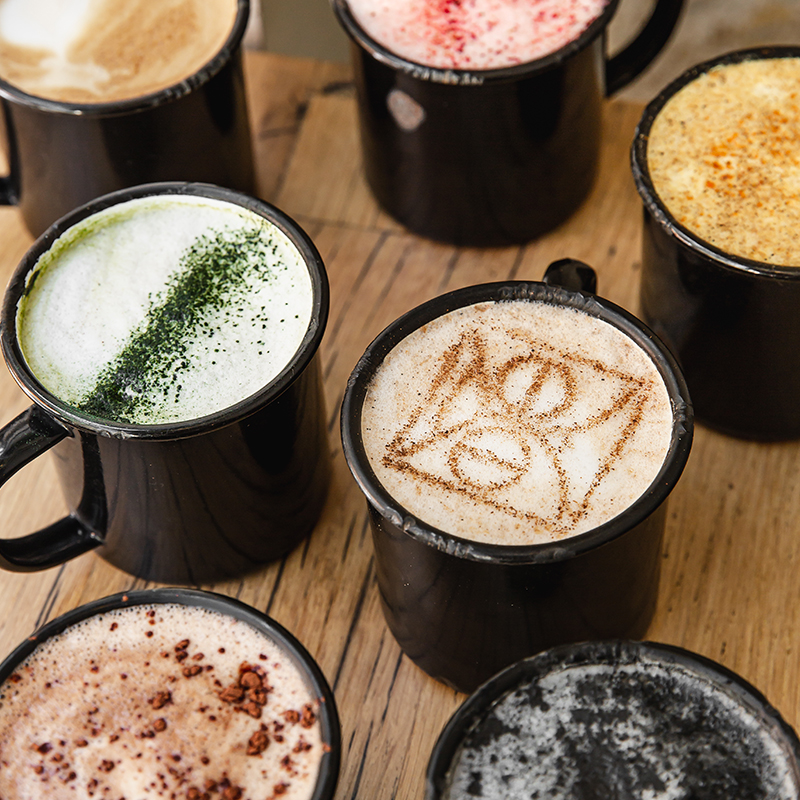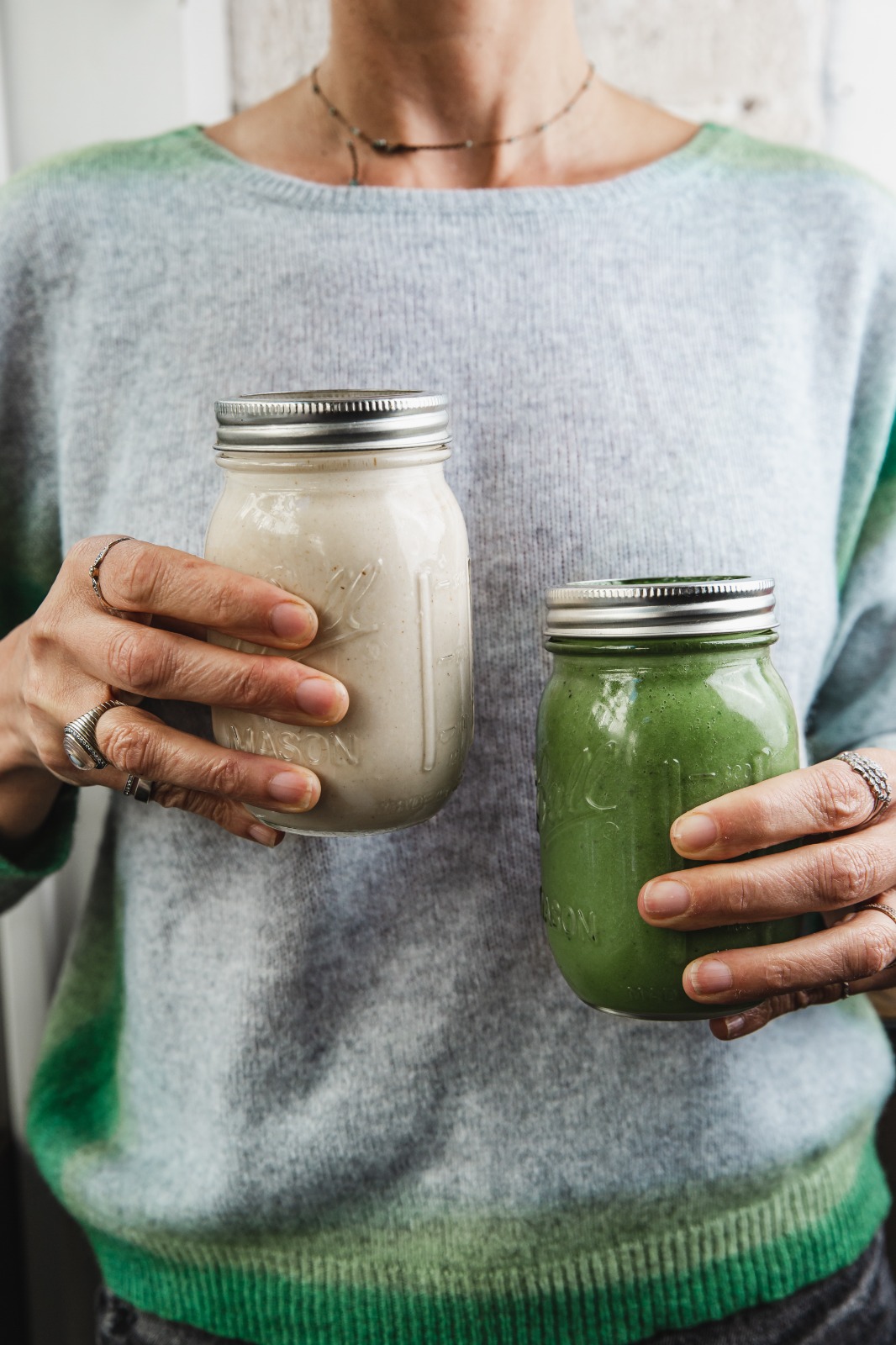 There is no reason to miss out on their benefits: adding a little superfood to your hot or cold drinks, at any time of the day, is THE easy and effective solution to succeed in consuming them daily
In latte, in juice, in smoothie...superfoods in powder form can be easily mixed with all types of drinks
To prepare a latte, nothing could be simpler: choose a superfood according to your current needs
Chaï: anti-oxidant and anti-inflammatory
Matcha: energizing and anti-oxidant, rich in proteins
Maca: aphrodisiac and vitalizing
Take a 1/2 teaspoon (1 teaspoon for maca) to mix with 1 tablespoon of maple syrup and add 250ml of vegetable milk previously heated to the desired temperature
Superfood in the evening as tapas to share
Now that you know more about how to consume superfoods, according to your desires, the time of day, and especially that you know the benefits, you can't keep it all to yourself!
Wouldn't it be a good opportunity to share it with your friends and family in a convivial moment around tapas or a preparation to share?
At Wild, we love sharing and even more so around a table to enjoy delicious, healthy and gourmet dishes. Another opportunity to add a little superfood to twist some of your favorite recipes.
For example, you can add spirulina or chlorella to your guacamole. You can also add toppings such as chia seeds, sesame seeds or flax seeds to your various recipes to share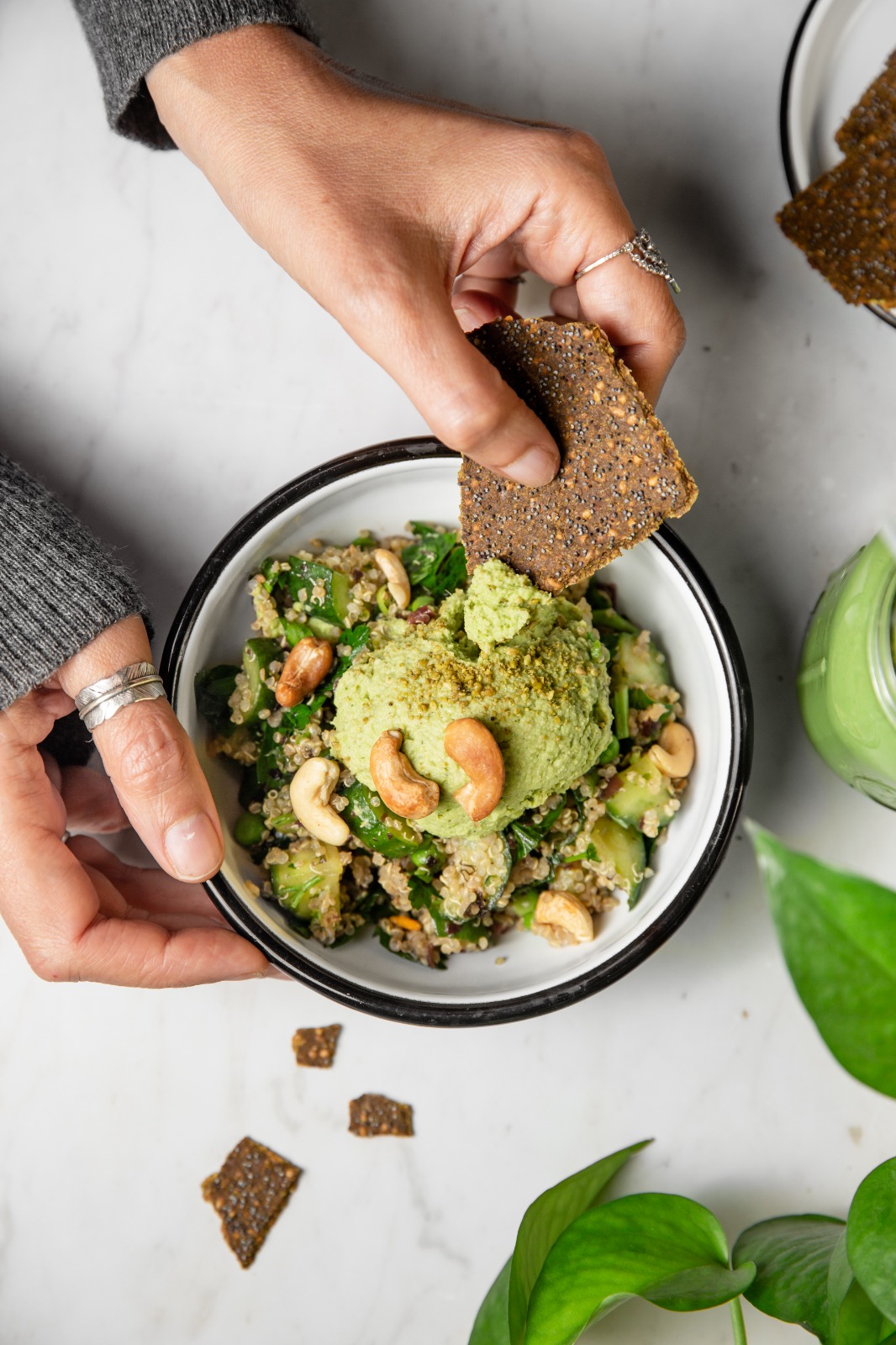 No reason not to take advantage of the extraordinary powers of superfoods in your daily life!
You can find on our e-shop our entire range of superfoods, carefully selected by our founder Emma Sawko to guarantee you high quality, organic and unheated products.
These superfoods, in addition to being used in the recipes of our restaurants, are also available for sale in our retail corners in each of our Wild & The Moon locations! Don't wait any longer !