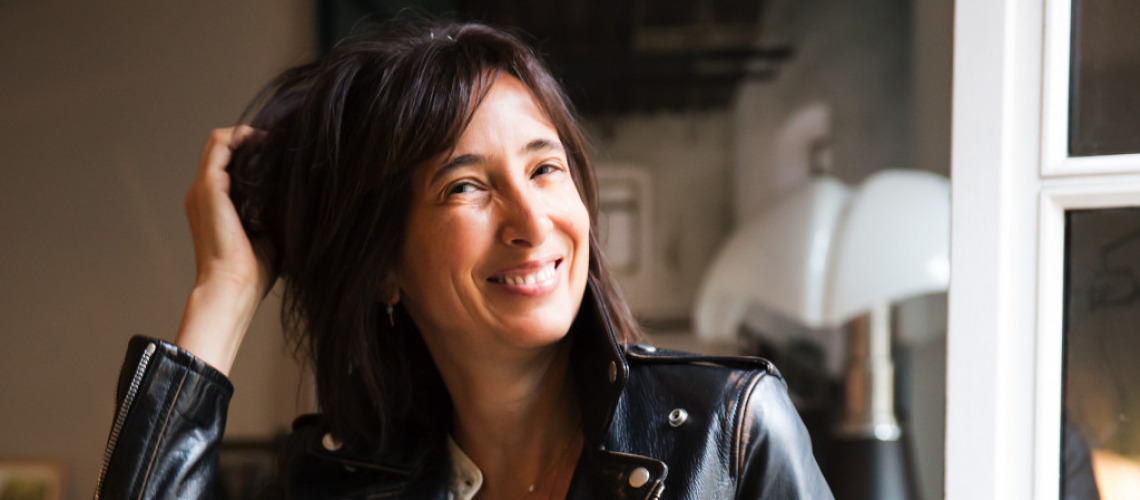 By Ségolène Forgar.
She spends her life between Dubai and Paris. At 48, Emma Sawko is a savvy (and converted) businesswoman. A former advertising executive and mother of three, she launched the design concept store "Comptoir 102" in the United Arab Emirates in 2012. The success is immediate. In 2015, she created "Wild and The Moon", a healthy place, this time in the heart of Paris. A new success! The "green", vegan, no glue and no plastic concept seduced so much that she opened, in the space of two years, a dozen restaurants throughout the capital. Meet an eco-friendly businesswoman.
ELLE.fr. You used to be an advertising executive and now you are the head of a "slow and healthy food" empire. How do you take such a turn ?
Emma Sawko. It came about quite naturally. After working for ten years as an art director at the DDB advertising agency, I was lucky enough to be able to take a career break when my husband Hervé - an investment banker - was transferred to New York. When I left to live there, I had not found my professional raison d'être but I enjoyed my three children for the first time. In New York, I adopted a new way of life: I lived in juice bars, did a lot of sports and went to cultural events. I also discovered, even though I already knew it, the power of food on health. And since I can't stand doing nothing, I decided to start a concept store for children. I was itching to start a new professional project. But I had no desire to go back to advertising. Once you've had a taste of freedom, it's hard to go back to a company with a schedule.
ELLE.fr. However, the project you are working on in New York will never see the light of day...
Emma Sawko. No. The day before I was to sign the lease for my concept store, my husband said, "Don't sign. We're moving to Dubai." At that moment, the world falls apart around me. I have no desire to move to Dubai. It's a city that I don't like, that doesn't resemble me, very far from the codes I had known before. The first year in the United Arab Emirates is difficult. And then, to avoid sinking into depression - which was not like me - I finally decided to set up a new project: a concept-store that mixes this time fashion, jewelry and design, in addition to opening an organic canteen. The idea was to launch something that did not exist in the region. And I missed the organic thing. In Dubai, it's more like the junk food empire. It was a risky bet. Some people told me: "It will never work! How can you grow vegetables in the middle of the desert? But, thankfully, I listened to myself.
ELLE.fr. And then your husband tells you he's been transferred. This time to Paris.
Emma Sawko. Yes, incredible but true. The day before the lease was signed, Hervé told me that we were going back to Paris. But then, I don't follow him. My project was too advanced in my head, so I made the choice to stay with my children in Dubai, in this city that I do not like. I did well because as soon as it opened in December 2012, my concept store "Comptoir 102" was a runaway success. "Comptoir 102" became a reference address in the region and received several awards: the Harper's Bazaar Award for design and What's On Award for best organic restaurant
ELLE.fr. How does your entourage react when you announce that you are launching a concept store and an organic canteen in Dubai?
Emma Sawko. My relatives, like my husband, support me. Everyone understood that I would go through with it anyway. I was very determined. I don't remember anyone holding me back.
ELLE.fr. Who did you ask for help to reach this milestone ?
Emma Sawko. Financially, I was lucky. My husband and I had been earning well for years and had some money set aside. This was a very big gas pedal and it's obviously easier to start up under these conditions. And then I was lucky enough to develop this concept store in this part of the world because there was a real need. A lot of energy was created around this project. In New York, the situation would have been different. I'm very grateful for my years in Dubai, even if it was a bit chaotic at the beginning. There are always obstacles and when there are obstacles, you must never lose sight of your project. I attached myself to "Comptoir 102" like a lifeline.
ELLE.fr. Are you prepared for the dizzying success of "Comptoir 102" ?
Emma Sawko. No, but fortunately, I am not alone in this adventure. I have a partner. That was a determining factor. Even if we have now separated - we did not have the same vision - to feel that you are not alone and that someone else can take over is very important. Especially in times of discouragement or doubt
ELLE.fr. And then, in 2015, you had the idea to create organic restaurants in Paris: this is the beginning of "Wild and The Moon". Why ?
Emma Sawko. I had been living in Dubai for six years. In the meantime, my husband quit his job and joined me as a partner. Here I had created a life that I loved: my concept store, my house near the beach, my family. However, I wanted to return to Europe and have my children be European after years in the United States and the United Arab Emirates. And if I had to come back, I might as well start a new project in France. In New York, I spent a lot of time in juice bars and I noticed that this concept was missing in Paris, as well as in Dubai. That's how "Wild and The Moon" was born
ELLE.fr. What did you find most difficult about starting a business?
Emma Sawko. Managing growth. With "Wild and The Moon", success was immediate. So much so that it was sometimes a bit dizzying. When you start a company, there are billions of adjustments that you are not necessarily prepared for. Our mistake was probably to develop the brand on two fronts: in Paris and in Dubai. At the start, the pace of work was really crazy. There was a lot going on in every direction. At the same time, we had to succeed in structuring the company and finding the people who would accompany us to keep moving forward. In retrospect, it was a mistake that ended up being a great one, but I don't recommend it.
ELLE.fr. Were you afraid of failing before you started ?
Emma Sawko. Of course I did. I asked myself a billion questions. One day, someone said to me, "Okay, there's a risk, but so what?" He was right.
ELLE.fr. What is the most fun you have in your daily life today ?
Emma Sawko. To be able to decide to do what I like. For my part, I love everything that has to do with creation. Imagining new recipes, a logo, the name of the juices or even a place in terms of architecture... That's what I love and what I know how to do. On his side, my husband - who left his job to become my partner - manages the finance. A third partner manages the restaurant business. We have found a very good balance, with three pillars with different skills.
ELLE.fr. Did you pay yourself quickly ?
Emma Sawko. Yes, very quickly. For "Comptoir 102", what I invested was paid back within a year. As for "Wild and The Moon", we got paid back as soon as we raised funds in March 2017 during which we managed to get more than 4 million euros. This explains our rapid growth and the opening of several restaurants
ELLE.fr. What are the mistakes to avoid when changing careers?
Emma Sawko. The risk is perhaps to spread oneself too thin and to listen too much to others. Mistakes also depend on the paths one decides to take.
ELLE.fr. How do you see yourself in 5 or 10 years?
Emma Sawko. I don't project myself. I live from day to day, or at least I try to. My dream would be to democratize the "Wild and the Moon" brand, and make it the "Starbucks of organic". This is of course very ambitious. By then, who knows, maybe we'll run out of steam. Currently, we are preparing for the opening of a restaurant in September, on the Place du Marché St-Honoré in Paris. And from 2019, we would like to set up franchises.
ELLE.fr. What is your typical day like ?
Emma Sawko. I don't really have a typical day but I try to have a little discipline. Otherwise, work would get in the way. Every morning, from 7 to 8 am, I work out. Then I make breakfast for my kids, I make them smoothies with plant-based milk. Then I leave for work and come home around 8pm.
ELLE.fr. One last piece of advice for a successful career change...
Emma Sawko. Don't be afraid to take risks and dare to leave your comfort zone. It's not always easy. I myself have had some really difficult moments of doubt but that's how you get there.